Fern Riley made this handsome card using our Trout Fishing unmounted rubber stamp! Nice job, Fern! The stamp size is 5-1/2 x 3-7/8 inches.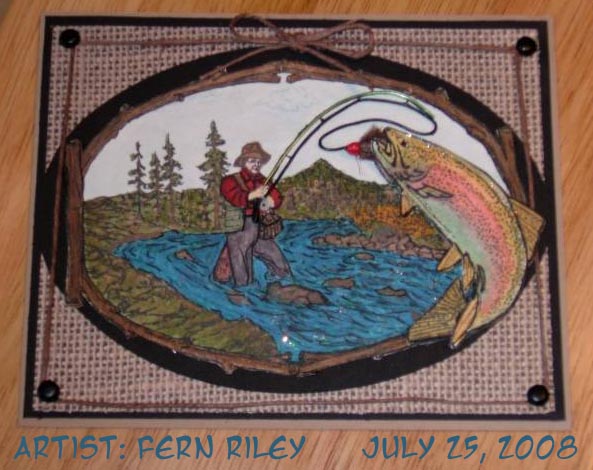 ---
---
Ruby Cross of Montgomery, Texas made these wonderful Mermaid Pendant Necklaces - Email her to learn her technique, or find a complete materials list on our Pendant Instructions page. Clicking on the mermaid images will take you to our mermaid stamps.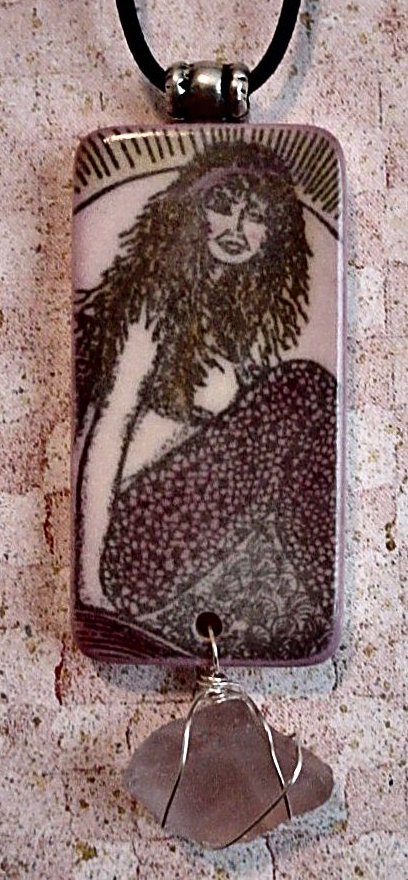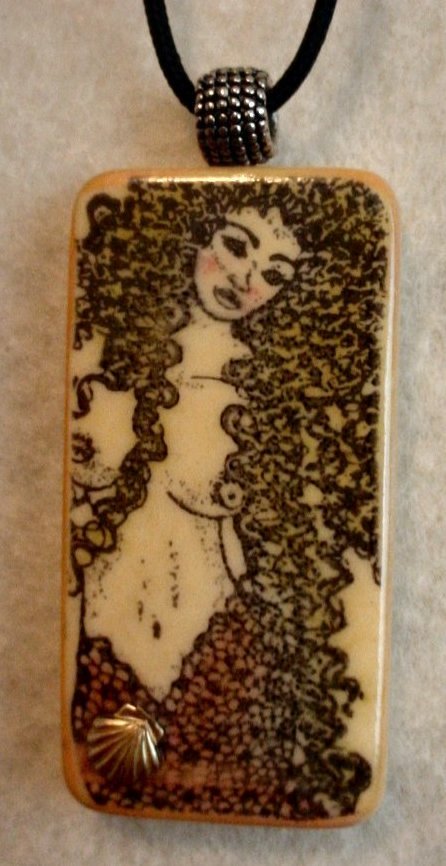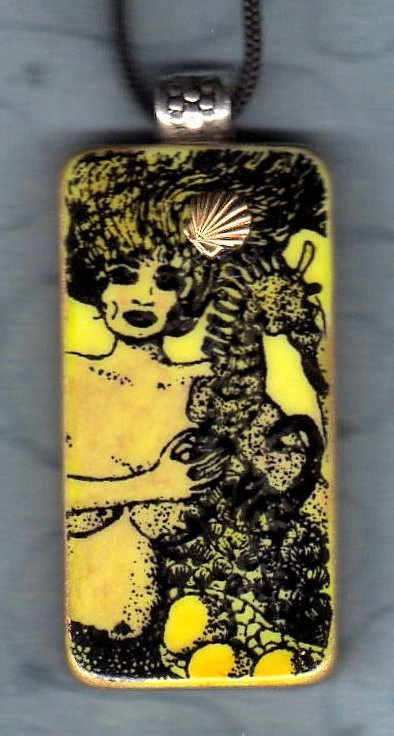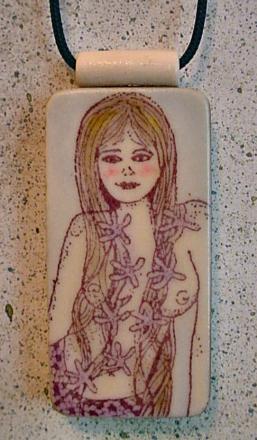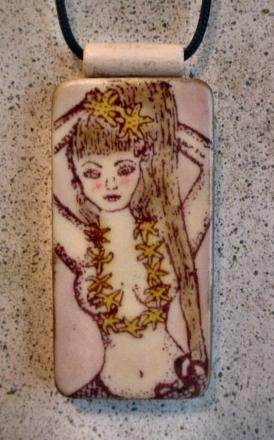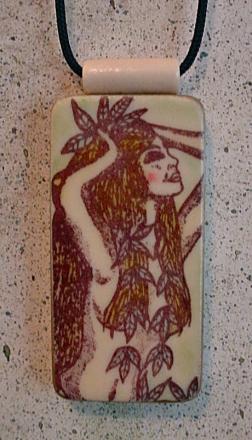 Materials:
Dominos (drilled if you want a drop)
Ancient Page Ink Pad - Black Coal
Fluid Chalk Ink Pads - colors of choice
Chalks and applicators
Rub n' Buff or Leafing Pen
Beads (large hold and level surface)
Professional grade super glue
Krylon fixative spray
Clear acrylic spray - gloss (or matte if preferred)
Cording (nylon or leather 1mm)
Tiny charms
Sea glass
24 gauge wire (silver and brass color)
Directions:
1. Prepare dominos to accept color by bleaching overnight or sanding.
2. Apply Fluid Chalk ink (color of your choice) as a background color and to sides if desired - heat set for faster drying time.
-or-
3. Background color can be added with chalks before or after stamping the image.
4. Stamp mermaid image with Ancient Page Black Coal ink and heat set for faster drying.
5. Add color to image with chalks with a small applicator - I prefer the Tiny Touch applicators.
6. When all color has been applied spray with Workable Fixative (2 coats). If you find you need more intense color more can be added after the fixative is applied and dried.
7. When the image is complete spray with a clear acrylic spray. Spray sides also if you are leaving them with ink or chalk color.
8. If you want the silver or gold leaf look on the sides - lightly sand the sides to remove any spray residue and apply the Rub n' Buff or Leafing Pen.
9. If desired you can add a tiny charm (with super glue) on the image or use a drilled domino and make a drop from a charm or wire wrapped sea glass.
10. Affix the bead to the top of the domino and allow ample drying time. I like to test the bead by gently dropping it on a hard surface.
11. String the cording through the bead and tie off.
---
See our Egyptian hippo stamp on an Artist Trading Card by neith posted on Lumpystuff.com.